Featuring Our 30th Anniversary Celebration
and
Our Future Health Leaders Program
Congratulations!
2015 Karen Halverson Scholarship Recipients
Bisbee High School
Stephanie Cuevas
Nogales High School
Aileen J. Cruz Marco Cooper Ricardo Lira Jr. Dulce Rodriguez Valeria Solorio
Pueblo High School
Alexxus Mc Elroy Maria Luisa Vegas
Tohono O'odham High School
Sadie Belton
Willcox High School
Milagros Acre
The Karen Halverson Memorial Scholarship is open to all SEAHEC Future Healthcare Leaders Club members who are graduating seniors. For more information about Future Healthcare Leaders contact:
Claudia Velasco
, Program Coordinator,
claudia@seahec.org
Tashina Machain
, Program Coordinator,
tashina@seahec.org
Future Healthcare Leaders Summer Camps
Tohono O'odham
From June 22nd-28th Southeast Arizona Area Health Education Center (SEAHEC) and the Tohono O'odham Nation hosted the Third Annual Future Health Leaders Summer Camp at the Tohono O'odham Community College (TOCC) in Sells, Arizona. Partners include The Tohono O'odham Health and Human Services and TOCC. 16 O'odham high school students who shared an interest in exploring the vast world of healthcare and its professions. The group of eight boys and eight girls, from various districts across the reservation, stayed in the TOCC dorms during the weeklong exploration of health careers and O'odham culture. A key strategy of the summer camp is to expose students to health concepts through activities that highlight both O'odham
Himdag
(O'odham culture, way of life, and values) and modern healthcare practices.
"This camp helped me to better understand my health career, becoming an EMT and fire fighter is what I want to do and I think I am one step closer."
– Kiara Antone As students explore their own culture in the context of health careers, they gain more knowledge about the importance of tradition and culture to the Tohono O'odham people and increase their understanding of the need for more O'odham healthcare providers serving in the students' communities. Health related and cultural activities are designed to help students improve their knowledge of health care fields, and to help them build leadership and academic skills that will increase their confidence in pursuing higher education. The week's activities included:
Health Careers Exploration:
Presentations on HOPP Healthy Eating, food systems & Tohono O'odham Scholarship opportunities.
Tours of the Sells Indian Health Services and UA College of Medicine.
CPR/First Aid Training and Certification.
Cultural Skills:
Adobe Brick Making
Basket Making
Rattle Making
Bahidaj (Cactus Fruit) Harvest
Recreation:
Traditional Games: TOKA & Wuicuda
Get Air Tucson Trampoline Park
"I had so much fun, I would tell the world about it (2015 FHL Summer Camp)."
– Rodrick Manuel
Arizona AHEC
From June 14th – 20th Grand Canyon University in Phoenix, Arizona became home for the week to 36 high school students interested in the great variety of health careers. Students participated in a week long health career exploration while gaining vital information about higher education, scholarships and financial aid. Activities included:
CPR/ First Aid Training and Certification

Carrington College Nursing School Tour

Sheep Heart Dissection

Nutrition and Cooking demonstration

TGEN Tour at Northern Arizona University

Public Health Lecture 

Rock Climbing 

Trip to AZ Science Center 

Diamond Backs Game 
Arizona Area Health Education Centers: Eastern Arizona AHEC (EAHEC), Northern Arizona AHEC (NAHEC), Southeast Arizona AHEC (SEAHEC), and Greater Valley AHEC  (GVAHEC) partnered to bring students from urban and rural Arizona to build leadership skills, explore health careers and make new friends.
Thank You for Celebrating with Us
our mission
  on Arizona Gives Day:
SEAHEC STAFF
EXECUTIVE
Gail Emrick, Executive Director, gemrick@seahec.org
ADMINISTRATIVE
Latysha Weime, Executive Assistant for Administration and Finance, lweime@seahec.org Aissa Acuna, Receptionist/Office Assistant, aissa@seahec.org
FUTURE HEALTH CARE LEADERS
Tashina Machain, Future HealthCare Leaders (FHL) Program Coordinator, tashina@seahec.org Claudia Velasco, Data Specialist and Nogales FHL Program Coordinator, Co-President, Binational Health Council/ABC Network, claudia@seahec.org
HEALTH PROFESSIONS STUDENT TRAINING OPPORTUNITIES
Erin Sol, Student Placement Specialist, esol@seahec.org
RETENTION OF HEALTH PROFESSIONALS AND QUALITY OF CARE
Suzanne David, Program Manager/Continuing Education Specialist, sdavid@seahec.org
COMMUNITY HEALTH INITIATIVES
Kathleen Gilligan, Program Coordinator, kgilligan@seahec.org
ARIZONA COMMUNITY HEALTH WORKERS NETWORK
Floribella Redondo, Network Director, floribella@seahec.org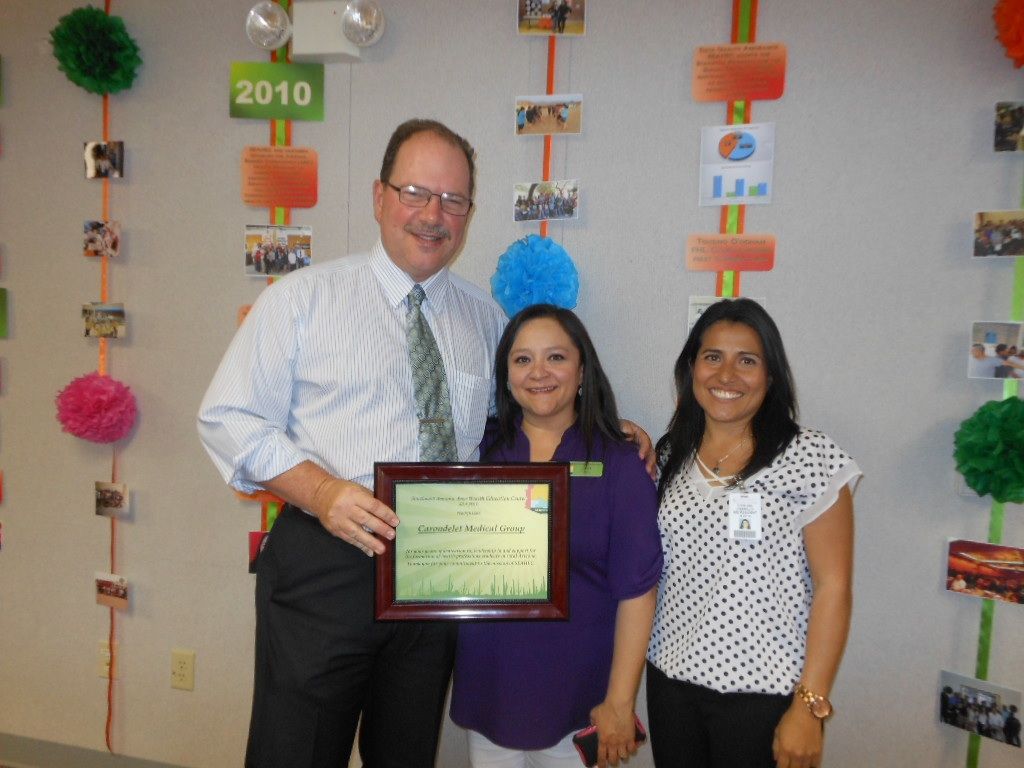 The Southeast Arizona Area Health Education Center recently celebrated its 30th anniversary with a party at its Target Range Road office, behind Carondelet Holy Cross Hospital. The event featured border tacos and the music of Nogales High School's Mariachi Apache. "Staff, board members, friends and colleagues joined in the celebration of our small non-profit and our contribution to making Nogales, Santa Cruz County and Southern Arizona a happier and healthier place to live," the organization said. SEAHEC was founded in Nogales as a nonprofit in 1985 to address the challenges in training and retaining health providers in rural areas. It currently serves Santa Cruz, Cochise and parts of Pima county. SEAHEC's activities include Future Health Leaders clubs, including one at Nogales High School, that expose students to health professionals as guest speakers. Citing a recent survey, the organizations said 100 percent of its club students graduated from high school and 90 of them enrolled in college. Of those in college, 54 percent were choosing health career tracks. In addition, SEAHEC has placed more than 1,500 health professions students – medical, nursing, dental, pharmacy, public health and physician assistants – in community and clinical settings. The organization provides housing and stipends to many of these students. SEAHEC says it has provided health education to more than 12,000 community members through an annual caregiver conference, health fairs, domestic violence conferences, border disability conferences, parent/student conferences, mental health first aid training and other events.